Roll over image to zoom in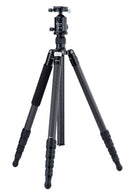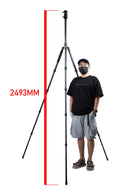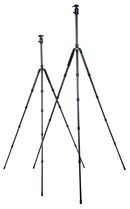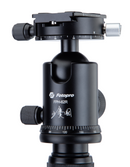 Description
The X-75C carbon fiber tripod kit comes complete with the FPH-72Q dual 360°Panorama shooting ball head. It is easy to carry and store which makes it ideal for outdoor, nature and adventure photography.It only weighs about 5.9 lbs,extended length 2330mm and folded length  590mm,so it is still perfect for packing and travelling.  This tripod can hold up to 26.4 lbs but can still convert into a full size monopod easily. The aluminum 72Q ball head features bubble levels for accuracy and ergonomic locking knobs for easy operation while sporting a panoramic scale. It comes complete with a standard camera plate.The hidden spiked feet and hidden center column screw for the weight hook insures secure footing and traction on any terrain and in any weather conditions. The 2 section center column permits low level shooting and the column is reversible.
The legs can be easily removed for cleaning out salt water, sand or dust which extends the life of the tripod.  The legs also rotate 180 degrees against the center column to make for a compact carrying mode.
Especially for outdoor photographers, this tripod is a good choice, enabling photographers to apture flawless, breathtaking photos and videos.
Specification
Product Name:X-75C+FPH-72Q
Section:5 sec
Net Weight:2.67KG
Extended Length:2493MM
Folded Length:590MM
Diameter:32MM
Max.Load:12KG
Material:Carbon Fiber
Highlight:
Load Capacity:26.4lb
Dual 360°Panorama shooting – The two-axis design makes the independent rotation of the camera platform, even when the tripod is unbalanced
Detachable column – Shooting the macro distance by close to the ground
1 second unfolds and locks – Fotopro quick locking system – Eccentric structure
Payment & Security
Your payment information is processed securely. We do not store credit card details nor have access to your credit card information.