Roll over image to zoom in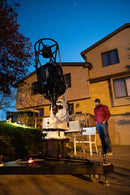 Description
Please contact us if you are interested in this telescope.
Enjoy exceptional optical and tracking performance for astrophotography, or research, with the CDK400 package! Includes a CDK17 optical tube and L-500 mount.
CDK17 optical tube:

f/6.8 and 2939mm focal length
No coma, no off-axis astigmatism, and no field curvature.
Pinpoint stars across a 70mm image circle.
Rock solid fused silica mirrors with low thermal expansion.
Carbon fiber optical tube assembly for rigidity and fast cooling.
Simple secondary mirror collimation thanks to the fixed primary mirror.

L-500 direct drive mount:

Zero periodic error, zero backlash, and minimal maintenance due to the lack of gears.
Slew speeds up to 50 degrees/sec for satellite tracking and fast target acquisition.
Sidereal tracking accuracy of < 0.30 arcseconds RMS over 5 minutes.
High resolution optical encoders on both axes for precision feedback.
Can be installed in either equatorial, or alt/az configuration.
Includes PWI4 software (ASCOM compliant) for mount control.
The PlaneWave Instruments CDK17 is a 17 inch (0.43 m) f/6.8 Corrected Dall-Kirkham Astrograph telescope. The CDK17 has a dual carbon-fiber truss design, with 3 cooling fans ejecting air from the back of the telescope, and 4 fans blowing across the boundary layer of the mirror's surface. The CDK17 covers a 70 mm field of view without any field curvature, off-axis coma, or astigmatism. The instrument weight is 94 lbs (43 kg) and comes standard with a backplate retaining ring ready to accept the focuser of your choice.
All CDK17 telescopes come with

 

fused silica

 

primary and secondary mirrors. 
The L-Series combines versatility, simplicity and affordability by combining all the technology of our Observatory class telescopes into a compact stand-alone mount.   In its Alt/Az configuration, it is considerably more compact than its equatorial counterpart, allowing a larger telescope to fit in a smaller enclosure. The mass it takes to make a rigid alt/az mount is substantially less, leading to cost savings. Unlike German Equatorial mounts, there are no meridian flips to deal with, and no large protruding counterweights to create a dangerous hazard in a public observatory. Alt/Az is more intuitive to use and no polar alignment is needed. Besides, it is the way the pros do it!
L-Series Mount Features:
Direct-drive motors on each axis for smooth, fast, and virtually silent movement of the telescope
Slew speeds up to 50 degrees per second
High-resolution encoders on each axis for precise positioning
Zero backlash
Zero periodic error
PointXP mount modelling software
Enclosed electronics
Through the mount cabling
| | | |
| --- | --- | --- |
| Direct drive motors and encoders | Direct Drive motors and on-axis encoders eliminate the need for  gears, thereby eliminating backlash and periodic error. With high-resolution encoders providing the feedback for the direct drive motors, not only will the telescope track without periodic error and backlash, the mount will also counter wind gusts with precise servo feedback. |   |
| Incredible Slew Speed | The direct drive motors can move the telescope at speeds up to 50 degrees per second for tracking satellites or just to minimize target acquisition time. |   |
| Dual mounting bracket | PlaneWave style mounting bracket to hold CDK17/20 onto inside of fork arm with additional option of mounting a scope on the outside of the fork arm. Optional dovetail clamp required. |   |
| Azimuth dovetail balance system | For precise center of gravity balance whether in Alt-Az or Equatorial configuration |   |
| Through the mount cabling | Access panels in the fork arm and azimuth axis allow for camera equipment cabling through the inside of the mount. |   |
| Proven CDK700/PW1000 Technology | The L-Series uses the same proven technology as the CDK700 and 1-Meter PW1000 which are being used in Universities round the world. |   |
Specifications
Mount System

| | |
| --- | --- |
| Type | Alt-Azimuth / Equatorial Direct Drive Mount |
| Weight | 110 lbs (50kg) |
| Component Weights | Azimuth Base – 40 lbs, Fork Arm – 70 lbs |
| Max. Load Capacity | 100 lbs (45 kg) |
| Latitude Range | 0 to 90 degrees, Northern and Southern hemispheres |
| Cable Management | Equipment cables can be wired through mount |
Control System

| | |
| --- | --- |
| Control Electronics | PlaneWave Interface dual axis telescope control |
| User Interface | PlaneWave Interface 4 (PWI4) Control Software with integrated PointXP mount modeling software |
| Homing Sensors | Home position sensors are included allowing the mount can find its home position on power up. |
| Slew Rate | 20 degrees per second (standard); 50 degrees per second (maximum), both axes |
| Power Requirement | Accepts 120 VAC. Supplied with 12VDC 15A Regulated Power Adapter |
Optical System

| | |
| --- | --- |
| Aperture | 17 inch (432 mm) |
| Focal Length | 2939 mm (115.71 inch) |
| Focal ratio | F/6.8 |
| Central Obstruction | 23.7% by surface area; 48.6% of the Primary Mirror Diameter |
| Back Focus from Mounting Surface | 10.32 inch (262.33 mm) |
| Weight | 106 lbs (48 kg) |
| Optimal Field of View | 70mm Image Circle |
Motion Control

| | |
| --- | --- |
| Motor Control | Industrial grade brushless motor control system and built in electronics |
| Motor – Azimuth and Altitude | Direct Drive 3 Phase Axial-Flux Torque Motors |
| Encoder – Azimuth and Altitude | 152mm stainless steel encoder ring with reader built into the azimuth and altitude axes. 18,880,000 counts per revolution (0.069 arcsecond resolution). |
| Motor Torque | Approximately 20 ft-lbs continuous; 50 ft-lbs peak |
| Drive Electronics | Industrial grade, off-the-shelf brushless motor drives for each axis with custom designed interface card |
| Telescope Control Software | PlaneWave Interface (PWI4). Incorporates PointXP mount modeling software by Dave Rowe. Provides HTTP and ASCOM control interfaces. |
System Performance

| | |
| --- | --- |
| Pointing Accuracy | <10 arcsecond RMS with PointXP Model |
| Pointing Precision | 2 arcseconds at sidereal velocity |
| Tracking Accuracy | < 0.3 arcseconds over a 5 minute period at sidereal velocity |
| System Natural Frequency | 10 Hz or greater |
Included Items
| | |
| --- | --- |
| Heating elements for dew prevention | The heating pads on the primary and secondary mirror require the 600195 Delta-T controller sold separately |
| OTA Cover | To protect the primary mirror and inside of the optical tube |
| Flashdrive | Contains software and instructions for collimation and spacing the primary to secondary mirror |
Hardware
Six 3/8-16 x 1/4″ socket head cap screws to bolt the mount to the pier, or wedge

 

Six 3/8-16 x 1/4″ washers

One extended length shoulder bolt for RA axis to EQ wedge alignment

One 16′ USB cable
To connect the mount to the observatory control computer
One 120VAC power cable
To provide power to the mount
Standard Allen Key set
For tightening bolts used on the mount
Flashdrive
Contains PWI4 software for mount control and instructions for installation
Gamepad
Used for control of the mount tracking speeds for visual observing
Payment & Security
Your payment information is processed securely. We do not store credit card details nor have access to your credit card information.